Rhapsody of Fire est un groupe italien de metal symphonique / Power metal épique (le groupe se définissant lui-même comme le fondateur du "Hollywood metal"). Avant de prendre le nom de Rhapsody puis de Rhapsody of Fire en 2006, le groupe s'appelait Thundercross. La musique du groupe se caractérise par une instrumentation « épique » privilégiant les envolées musicales aux accents tantôt guerriers, tantôt plus doux.
Les textes des cinq premiers albums racontent une seule histoire, démarche qui va donc encore plus loin que celle de l'album-concept.
Sur les trois premiers albums, la plupart des titres ont une structure de metal mélodique assez typée, rappelant Helloween ou Yngwie Malmsteen, agrémentée de parties symphoniques.
Ils se rapprochent peu à peu du son d'une musique de film, l'aboutissement actuel étant Symphony Of Enchanted Lands II - The Dark Secret, où avec les moyens à leur disposition et la voix narrative de Christopher Lee, ils obtiennent un album inspiré et diversifié.
Legendary Tales (1997)
1. Ira Tenax
2. Warrior of Ice
3. Rage of the Winter
4. Forest of Unicorns
5. Flames of Revenge
6. Virgin Skies
7. Land of Immortals
8. Echoes of Tragedy
9. Lord of the Thunder
10. Legendary Tales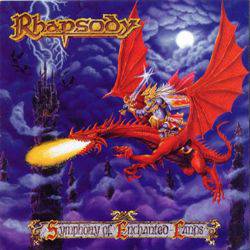 Symphony of Enchanted Lands (1998)
1. Epicus Furor
2. Emerald Sword
3. Wisdom of the Kings
4. Heroes of the Lost Valley
a/ Entering the Waterfalls' Realm
b/ The Dragon's Pride
5. Eternal Glory
6. Beyond the Gates of Infinity
7. Wings of Destiny
8. The Dark Tower of Abyss
9. Riding the Winds of Eternity
10. Symphony of Enchanted Lands
a/ Tharos Last Flight
b/ The Hymn of the Warrior
c/ Rex Tremende
d/ The Immortal Fire
Dawn of Victory (2000)
1. Lux Triumphans
2. Dawn of Victory
3. Triumph for My Magic Steel
4. The Village of Dwarves
5. Dargor, Shadowlord of the Black Mountain
6. The Bloody Rage of the Titans
7. Holy Thunderforce
8. Trolls in the Dark
9. The Last Winged Unicorn
10. The Mighty Ride of the Firelord
Rain of a Thousand Flames (2001)
1. Rain of a Thousand Flames
2. Deadly Omen
3. Queen of the Dark Horizons
4. Tears of a Dying Angel
5. Elnor's Magic Valley
6. The Poem's Evil Page
7. The Wizard's Last Rhymes
Power of the Dragonflame (2002)
1. In Tenebris
2. Knightrider of Doom
3. Power of the Dragonflame
4. The March of the Swordmaster
5. When Demons Awake
6. Agony Is My Name
7. Lamento Eroico
8. Steelgods of the Last Apocalypse
9. The Pride of the Tyrant
10. Gargoyles, Angels of Darkness
a/ Angeli di Pietra Mistica
b/ Warlord's Last Challenge
c/ And the Legend Ends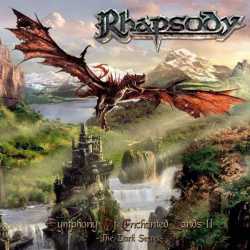 Symphony of Enchanted Lands II - the Dark Secret (2004)
1. The Dark Secret / Ira Divina
2. Unholy Warcry
3. Never Forgotten Heroes
4. Elgard's Green Valleys
5. The Magic of the Wizard's Dream
6. Erian's Mystical Rhymes / The White Dragon's Order
7. The Last Angel's Call
8. Dragonland's Rivers
9. Sacred Power of Raging Winds
10. Guardiani del Destino
11. Shadows of Death
12. Nightfall on the Grey Mountains
Triumph or Agony (2006)
1. Dar-Kunor
a/ Echoes from the Elvish Woods
b/ Fear of the Dungeons
2. Triumph or Agony
3. Heart of the Darklands
4. Old Age of Wonders
5. The Myth of the Holy Sword
6. Il Canto del Vento
7. Silent Dream
8. Bloody Red Dungeons
9. Son of Pain
10. The Mystic Prophecy of the Demonknight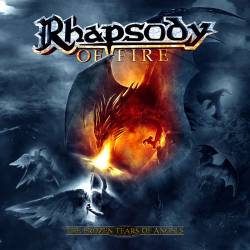 The Frozen Tears of Angels (2010)
1. Dark Frozen World
2. Sea of Fate
3. Crystal Moonlight
4. Reign of Terror
5. Danza di Fuoco é Ghiaccio
6. Raging Starfire
7. Lost in Cold Dreams
8. On the Way to Ainor
9. The Frozen Tears of Angels
Bonustracks (Digipack Limited Edition)
10. Labyrinth of Madness
11. Sea of Fate (Orchestral Version)
From Chaos to Eternity (2011)
1. Ad Infinitum
2. From Chaos to Eternity
3. Tempesta di Fuoco
4. Ghosts of Forgotten Worlds
5. Anima Perduta
6. Aeons of Raging Darkness
7. I Belong to the Stars
8. Tornado
9. Heroes of the Waterfall's Kingdom
a/ A New Saga Begins
b/ Through the Portals of Agony
c/ The Black Order
d/ Nekron's Bloody Rhymes
c/ Escape from Horror
11. Dark Reign of Fire